Solent Yacht & Motorboat Charters
Welcome to Solent Boat Charters Based In Lymington & Beaulieu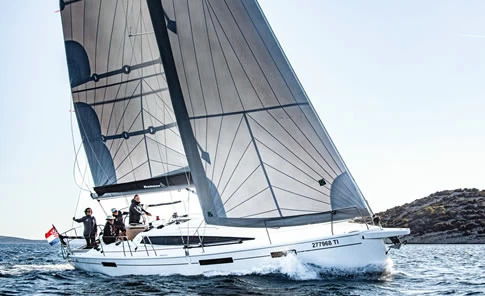 Model : Dehler 38SQ Performance Yacht
Home Berth : Lymington Yacht Haven Marina
Capacity : 5 Guests ( Plus Skipper )
Cruising Area : The Solent
Skippered Day Charter From £599 Inc
Skippered Evening Charter From £299 Inc
Click For More Details
Solent Boat Charters
Solent Boat Charters offers Solent sailing yacht and motorboat charter on our boats based in Lymington & Beaulieu in the English Solent.
On our brand new Dehler 38SQ racer/cruiser we offer day sailings and private skippered day charters for up to 6 guests and our skipper run out of Lymington.
Our Fairline Targa 44GT offers relaxed days exploring the Solent out of the Beaulieu River.
We offer private sailing events for as little as £50 per person.
Performance Yacht Charter From Lymington
Our brand new Dehler 38SQ is a lively yacht based in Lymington Yacht Haven marina at the western edge of the English Solent. Aimed at enthusiastic sailors with a good amount of previous experienced, is licensed for 6 guests and her skipper. Evening charters start at £299 for 6 sailors, full days £599.
We offer private full yacht sailing mile builders for 4 persons over 2 days costing £999, so just£125 per person per day on a brand new performance yacht.
Motorboat Charter From The Beaulieu River
Our Fairline Targa 44GT lives at Bucklers Hard marina on the Beaulieu River in the heart of the New Forest. She is perfect for families and friends alike to enjoy celebrations whilst enjoying the sights and sounds of the English Solent. Evening charters for 7 guests cost just £599 with full days just £999.